English
Early bird tickets available!
The early bird registration for the Historians' Days 2022 has opened! You can now order your ticket with discount until 31 May. Afterwards, tickets can only be bought at regular prices. The early bird prices are:
| | |
| --- | --- |
| Young KNHG | € 35 |
| students | € 40 |
| KNHG members | € 90 |
| speakers (new) | € 90 |
| full | € 110 |
| | |
| congress diner | € 35 |
Sponsor a participant
The Historians' Days 2022 offer the opportunity for sponsoring a participant. Would you like to sponsor a young historian or a historian in a precarious financial situation? Please select the option 'I sponsor this participant' in the registration form and fill in the relevant personal and invoice information. Are you not able to go yourself, but would you like to sponsor the ticket of someone else? You can also make a donation through a deposit on NL29 INGB 0006 9434 91, with a reference to 'sponsor a participant Historians' Days 2022′.
______________________________________________________________________________________________________________
About the Historians' Days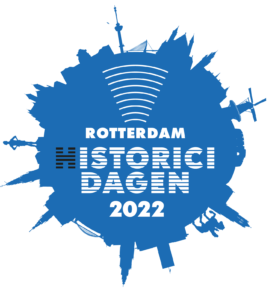 The Historians' Days (in Dutch: Historicidagen) are jointly organized by the Royal Netherlands Historical Society (KNHG) and the History Department of the Erasmus University Rotterdam (EUR) from 25-27 August 2022, and are meant for everyone interested in history, professionally or otherwise.
The event showcases the many diverse and dynamic ways of doing history. Through a wide spectrum of lectures, debates and workshops, the Historians' Days tackles issues and challenges on the frontline of historical research and public debates. Keywords of the conference include networking, inspiration, orientation, career and relaxation.
The Historians' Days are modelled on well-known, influential and professional conferences abroad, such as the annual gatherings of the American Historical Association and the biennial Historikertag of the Association of Historians of Germany.
The Historians' Days 2022 evolve around the theme of History Beyond Borders, and actively promote diversity within participants, audience, program, stories, methods and presentations.